Learn how to Compress Video files online without losing quality. Our step-by-step guide helps you reduce Video File size Online.
Sharing your videos online can be a time-consuming process. Once you've created fantastic content and perfected it, the next step is to upload it.
Uploading Videos can take a long time, especially if your Video file is big in size. One of the most frustrating things for the user is waiting for the file to upload. Nobody wants to sit around waiting for that! Right?
Fortunately, learning how to compress a video file doesn't have to be a time-consuming task. You can do it in couple of seconds, totally for free!
1. Upload Video File
You can do so by Uploading your Video File to an Online Video Compressor made by Streamvi.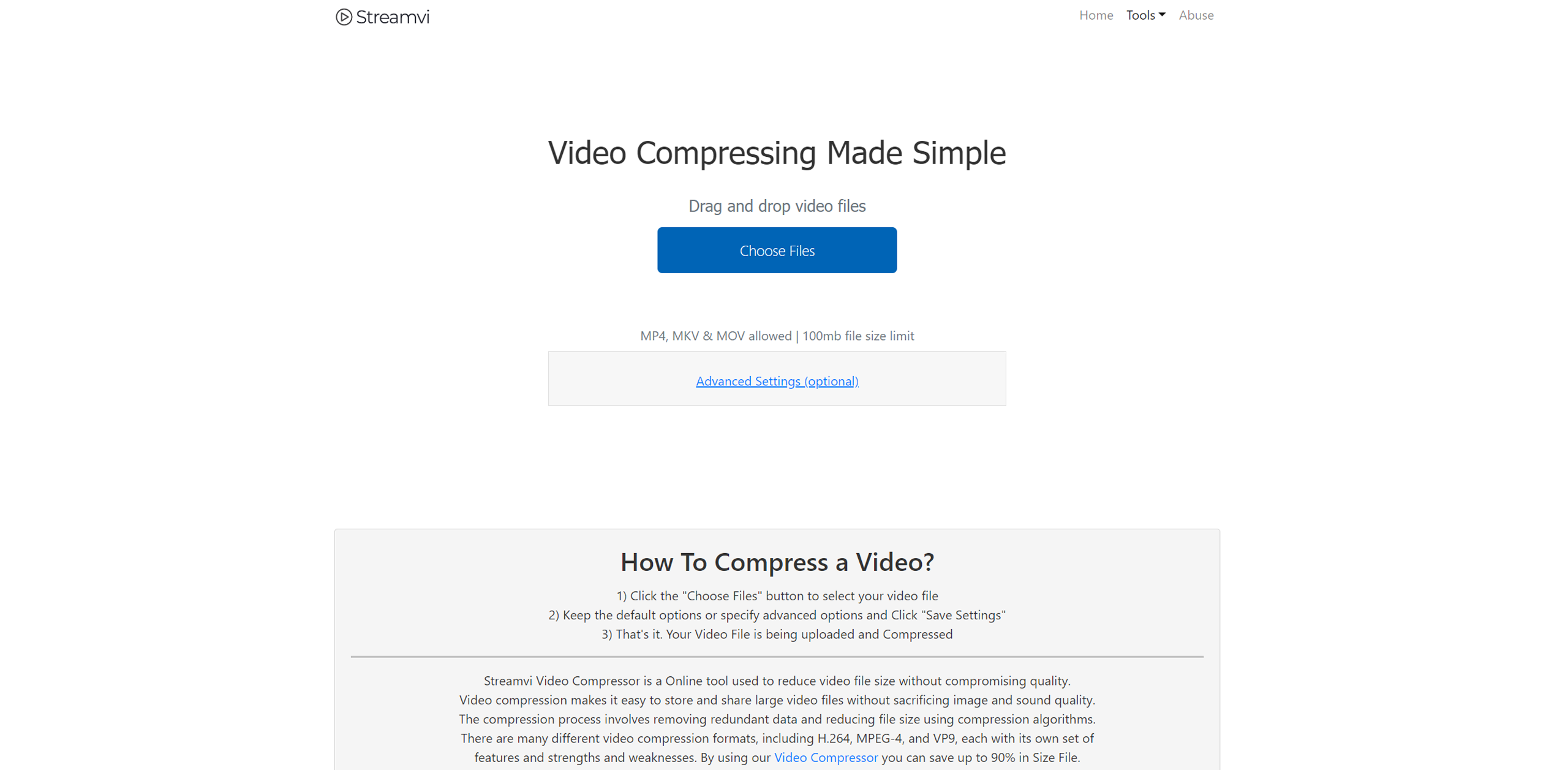 Click on "Choose Files" and Select your Video File.
---
2. Wait couple of seconds
Uploading might take some time, Compressing too. Wait couple of seconds so we can fully Compress your Video File without quality loss.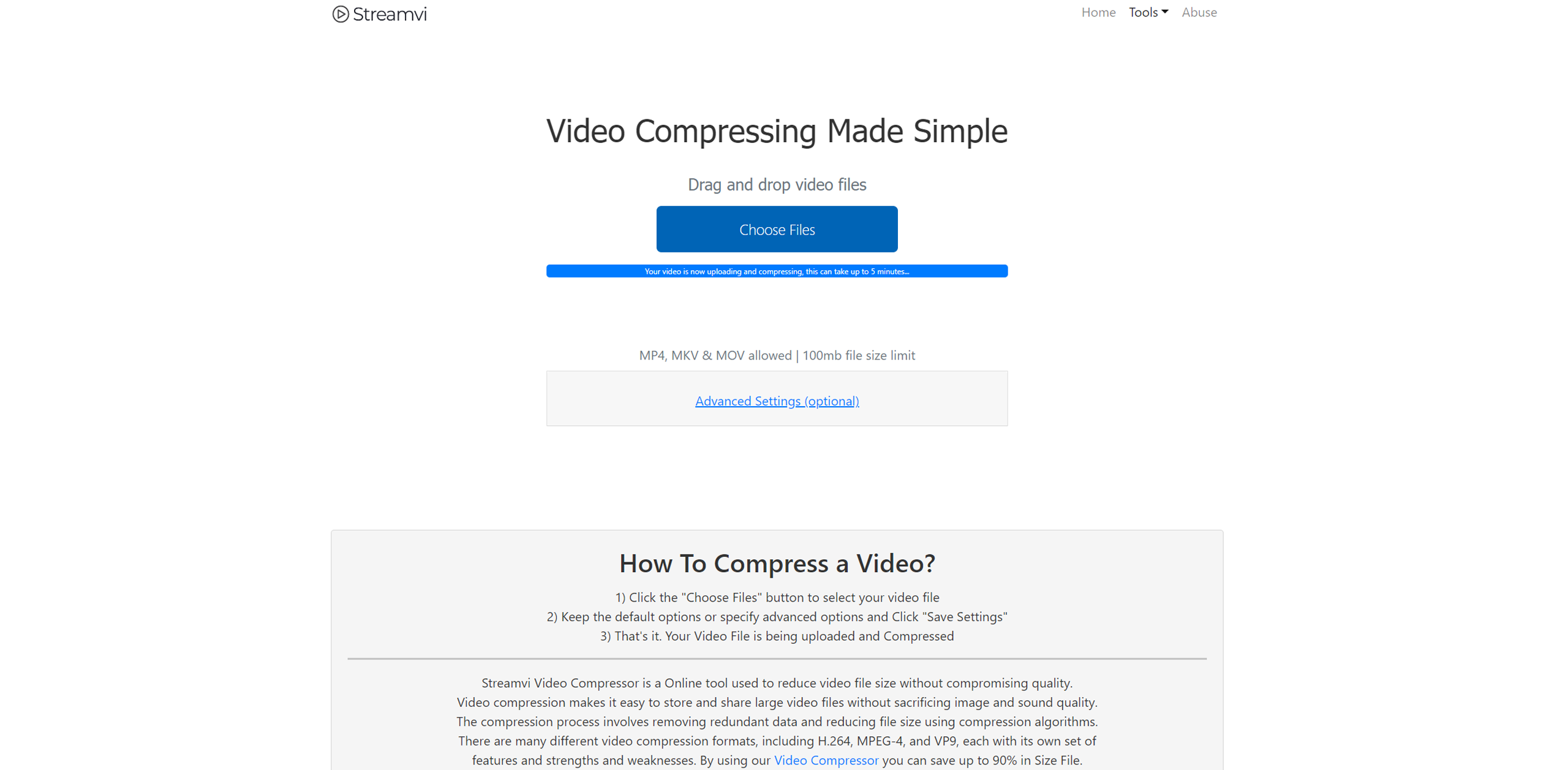 ---
3. Download Compressed Video File
That's it! Your Video File is ready to Download. Just click on the "Download Files" button and you can save your Compressed Video on your PC, Phone, Tablet or even a Smart TV.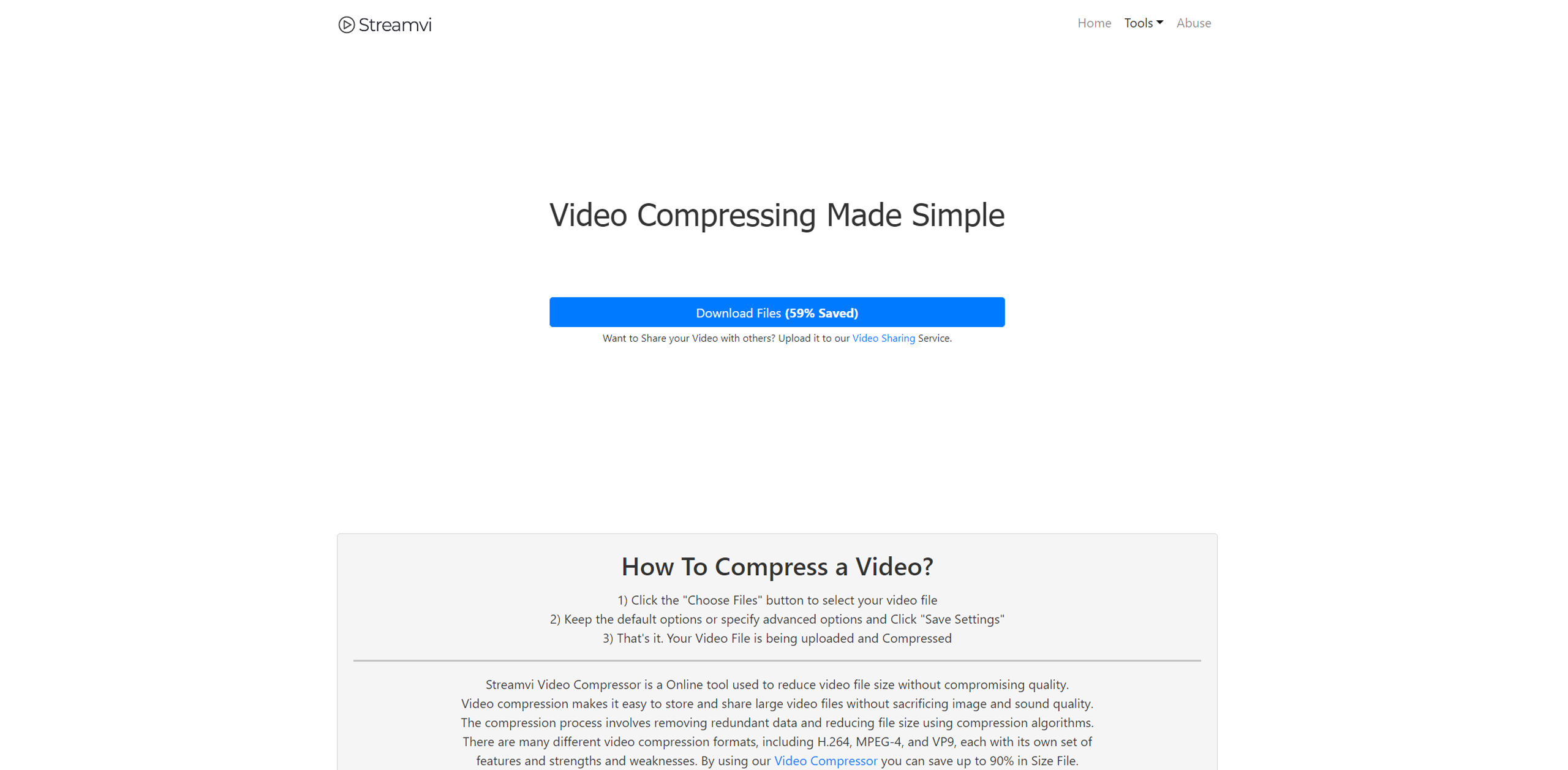 ---
You Don't Have to Compromise Quality for Speed
With Streamvi, you can quickly compress your video files regardless of the device you have. With little to no loss in visual quality, large video files can be compressed into smaller ones. Streamvi works with a wide range of video file formats; therefore, you don't have to worry about being restricted in any way.
This online video compressor is ideal for reducing the file size of raw video footage so you can share it on social networking sites such as YouTube, Instagram, WhatsApp, and more.
Compress Your Videos Today!
Are you ready to compress your videos quickly without having to compromise audio or video quality? Streamvi is here to offer you a simple, effective, and professional online video compressor that's compatible with a wide range of file formats, such as MPEG-4, H.264, and VP9.
If you've always wanted to share your videos on other social platforms or with other people but couldn't deal with delayed compressing services, Streamvi has you covered! It's time to say goodbye to poor-quality videos and hello to lightning-fast compression times! Try the Sreamvi online video compressor today!
---
FAQs
How Do I Compress a Video?
Video compression is simple. To compress a video on Streamvi, simply upload the file, wait a few seconds, and download your file. You can choose your own advanced settings or leave the default settings depending on the type of quality you're looking for.
What Types of Files Can I Compress with Streamvi?
We work with a number of video file formats, including MP4, MOV and MKV. Different formats have different pros and cons; therefore, you need to find the one that's going to give you exactly what you're looking for.
Will I Lose Quality?
When using Streamvi, your video will be exported at the highest quality possible, given the size of the exported file. Keep in mind that the file size grows along with an increase in quality. Ultimately, the choice is yours; you can experiment with various export choices and choose the video file that works best for you.